Revealing God's Treasure DVD - Order Here
New 2nd Edition only available here --
New video segments, widescreen, and higher resolution

A wonderful witnessing tool and faith builder
Perhaps the #1 DVD on earth as some folks say
This is our production, so purchasing here helps us with further projects
Excitement abounds about this DVD for a reason!
3.5 hour DVD covering all the discoveries, plus Ron Wyatt presentations. Select a larger quantity of 3 or 10 and receive a price reduction, perfect for you to resell or give away while spreading the word about the discoveries.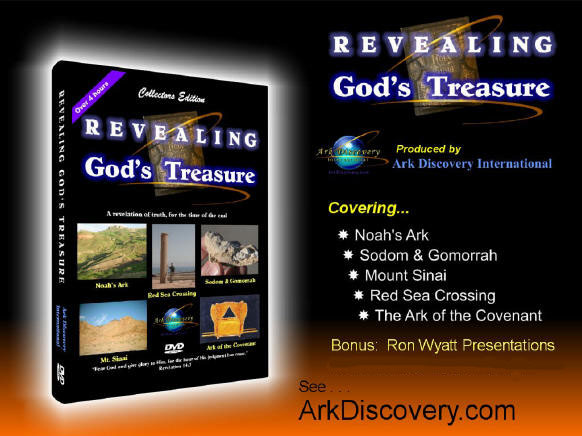 Ark Discovery International, Inc., produced this new second edition DVD which covers the five major discoveries of Noah's ark, Sodom and Gomorrah, Mount Sinai in Arabia, the Red Sea crossing and the Ark of the Covenant, with 3.5 hours of video, including Ron Wyatt speaking at several venues. This second edition has some new video clips and is widescreen.
You will be amazed at what the Lord has preserved for the last people on earth to witness before the Lord's soon return. These discoveries confirm the Bible and can be a tool to transform the hearts of souls. The evidence will speak for itself. You will wonder why these discoveries have not been revealed to the world in a broader format. In God's timing, all people will learn of this truth. DVD is region 0 and will play in PAL DVD players also. English version. All sales final, no returns.
(Click here for the video, all 3.5 hours, in downloadable mp4 format)

FREE DVD Shipping

All DVDs come with a free Ark Discovery Digest magazine, one per DVD ordered
Volume discounts when ordering 3 or 10 DVDs
3 DVDs for $44.00 and 10 DVDs for $109.00 (shipped to USA)
(50 DVDs can be ordered for $275.00 USA, ($425 foreign) if you are giving them away
or you are selling them locally, but not for online sales.
On our home page use the Donate button and make the donation
and describe your order of 50. These do not come with the magazines.)
Order 10 DVDs, receive a free DVD - Journey Back
to Noah's Ark and 10 Ark Discovery Digest magazines.
Order DVDs here via PayPal:
Please send funds via PayPal as shown below. Pricing options are shown in the drop-down box below.
Click on "Down Arrow" and select USA or Foreign shipping and quantity. If you are not in the USA but select USA shipping, we will have to void your order. PayPal account NOT necessary. They can process your Visa or Mastercard.
Order here via US Mail if you are in the USA:
Mail payment, USD funds only, mail to:
Ark Discovery International
PO Box 746
Sparta, TN 38583
DVD is a double layer disc will play in most DVD players in NTSC format.
The disc is Region Free or Region 0 in the NTSC format that will play in most PAL DVD players. If you have issues with the disc locking up while playing or the sound dropping out, please use another DVD player that can handle a Dual Layer disc. 99% of DVD players can handle a Dual Layer disc.
Other language translations are available: Portuguese Korean Hindi Spanish Mandarin Dutch German
Comments from those who have previewed the DVD:
"One of the most distinguishing claims made by proponents of the Bible is that it is an actual record of history, detailing the lives of real people, real places, and real events. Much debate has occurred among biblical scholars who affirm the historicity of the Bible and critics who contend that the Bible is not historical and should not be read as such.

"This DVD chronicles a number of dynamic archaeological discoveries made by archaeologist Ron Wyatt over a 22 year period of work in Egypt, Israel, Turkey, and Saudi Arabia. The physical evidence of Mr. Wyatt's archaeological discoveries affirm a number of key Biblical events including: The nation of Israel's Exodus from Egypt under the leadership of Moses; the location of the Red Sea crossing in the Gulf of Aqaba; the charred remains of the Biblical cities of Sodom and Gomorrah; the Saudi Arabian location of Mount Sinai where the Ten Commandments were given to Moses; the crucifixion site of Jesus; the location of the Ark of the Covenant; the ancient Egyptian lifting devices used to construct the great pyramids; that the identity of the Egyptian Imhotep is the Biblical Joseph who's foresight and planning saved the land from a devastating 7 year famine; the lava-encased remains of Noah's Ark located in the mountains of Turkey.

"Archeology has been described as the scientific study of the human past where the knowledge and understanding of human history extends beyond the limits of written records. The physical archaeological evidence presented in this DVD is a must see for anyone fascinated by history and wanting more than written records. For those with an interest in Biblical history, the wealth of materials in this DVD (photos, videos, artifacts, etc.) will further affirm the historicity of the Bible and the credibility of the Christian faith.

"The production quality is above average and contains over 4 hours of video including a number of touching segments where Ron Wyatt shares about his life experience. Each archaeological find is a separate segment and can be viewed on its own, separate from the rest of the DVD, making it useful as a classroom teaching aid or to introduce others to Biblical archeology. 5 out of 5 stars." Smick
"Amazing documentary! Why is this information not all over the web? Beautiful encouragement to believing in the Lord." Winter
"We have enjoyed watching about all these amazing discoveries and have passed it on to several of our friends to share with their families...It is well done and is a great encouragement and builder of faith in God and His plans for His people..." Larsen
"The DVD, Revealing God's Treasure, was so excellent. Anyone interested in learning about the wonders God performed in the days of the Israelites and how it affects us today needs to see this DVD. It is well done and well worth purchasing." June
________________________________________________________
Sales are final. USA shipping will be USPS First Class Mail for singles, USPS media mail for larger quantities shipped in USA. Foreign shipping is USPS.